Hi everyone! How are you doing during these home stay for safe days? I hope everyone is doing well and keep up with both your physical and mental health 🙂
Today I am going to show you a birthday gift from my sister years ago, which were a series of crochet box sets with all the crochet kit. That was the first time I got something related to amigurumi for my birthday and I was really happy to have such a thoughtful sister 🙂
Let's get back to the topic. 2 years ago, I have shared the first box I opened. (You may like to check out: Disney Zootopia Crochet Boxset Unbox) The unboxing and review for today is Disney Princess Crochet Box Set.
My followers and fans of Facebook and Instagram might have seen my princess amigurumi before and yes, they are all from this crochet kit! I have been receiving some requests asking for a pattern release but I can't do it as it is a copyrighted pattern.  Therefore, what I can do is to write a unboxing and review here to help you understand what's inside the box and what are the patterns available before you buy it.
Let's begin by looking at the box!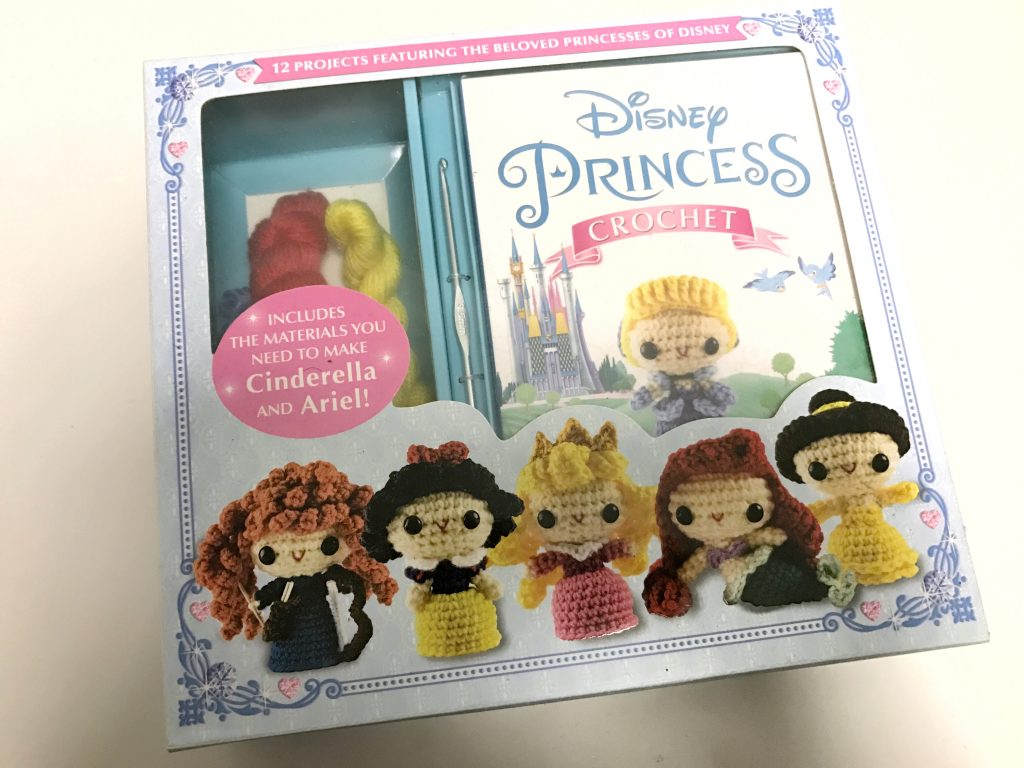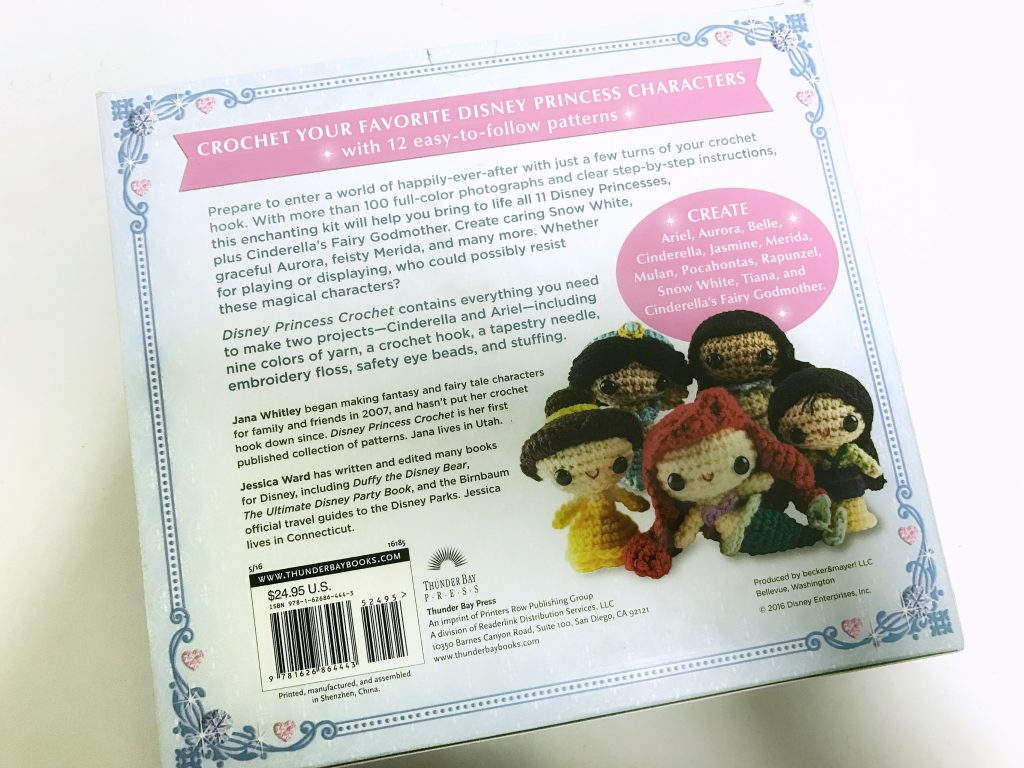 You can see all the princesses that you will learn how to crochet on the sides of the box. There are altogether 12 princesses. They are:

1. Cinderella
2. Fairy Godmother
3. Snow White
4. Aurora
5. Ariel
6. Bella
7. Jasmine
8. Pocahontas
9. Mulan
10. Giana
11. Rapunzel
12. Merida
Disney Princess Crochet Box Set Crochet Kit Unboxing
The kit set is well organised with different sections. Inside, you will find a small crochet pattern booklet and all the materials you need to crochet two princesses.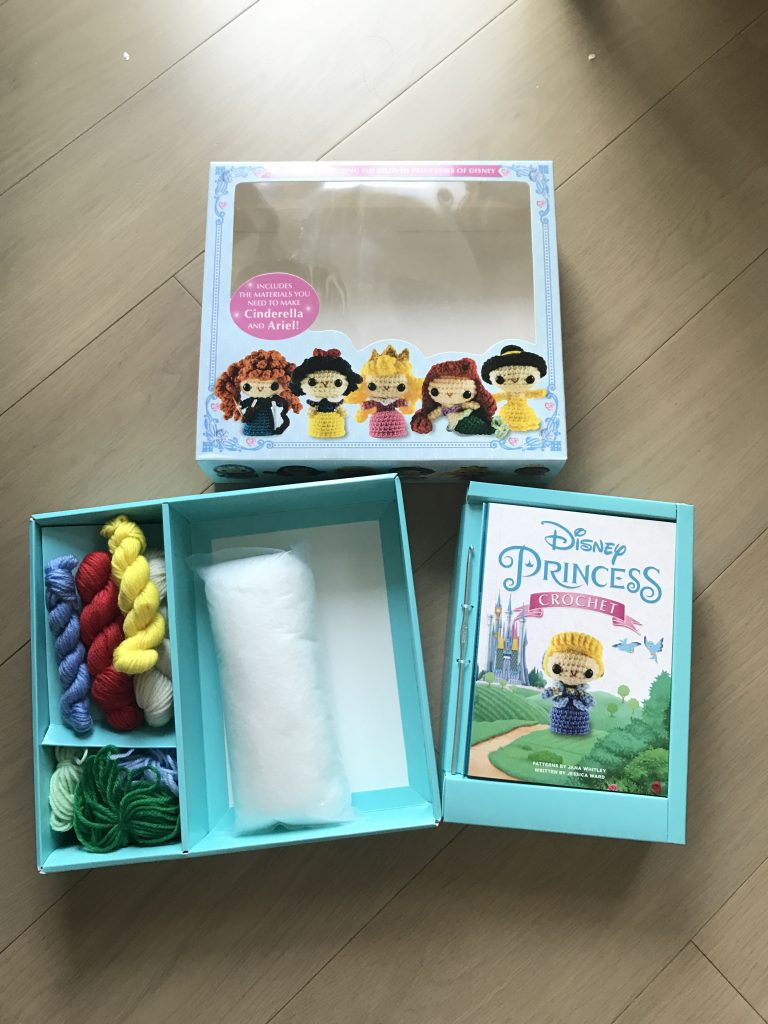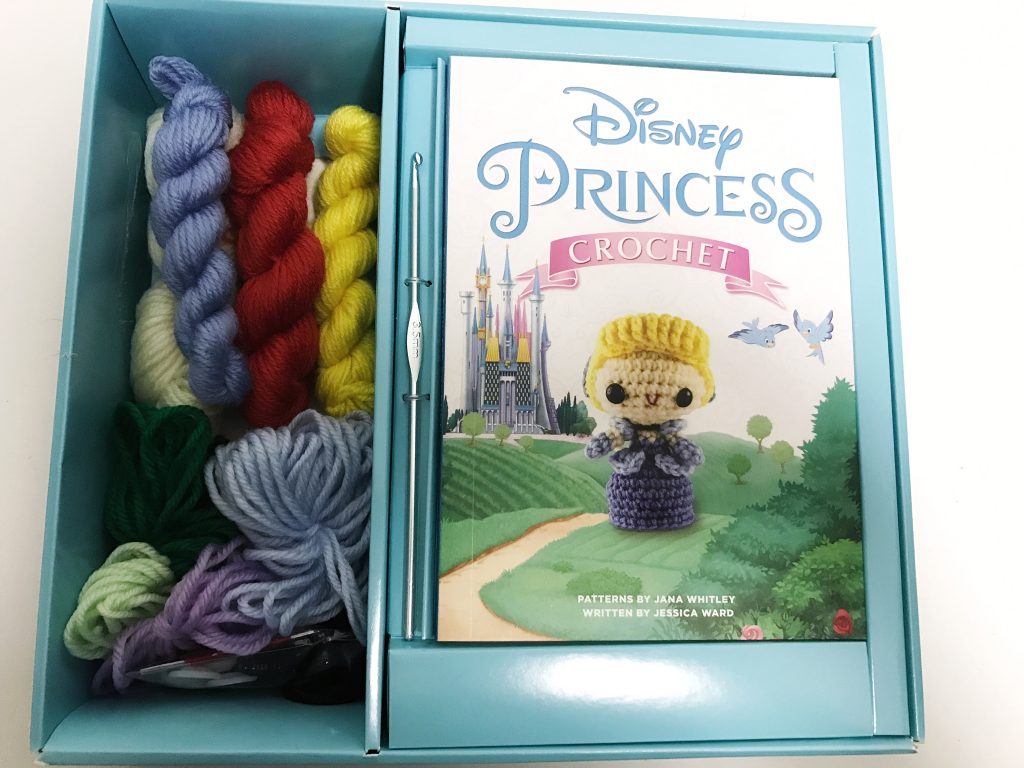 The materials provided are really complete. 
acrylic yarn
crochet hook
safety eyes
embroidery thread
a big pack of stuffing
a tapestry needle

I really appreciated the comprehensiveness because other crochet kit boxes provides only the basic supplies and seldom provide stuffing and tapestry needle.
With the materials, you can crochet 2 princesses, Princess Cinderella and Princess Ariel.
Disney Princess Crochet Box Set Crochet Kit Review
Now, let's look at the guide and see what I have crocheted with this kit.
The crochet pattern booklet is very comprehensive. It starts off with crochet stitch and techniques.
After you learn all the required stitches and techniques, it comes to the step-by-step guide for each princess project.
There are clear photos to demonstrate the complicated stitches and techniques of sewing along the crochet pattern.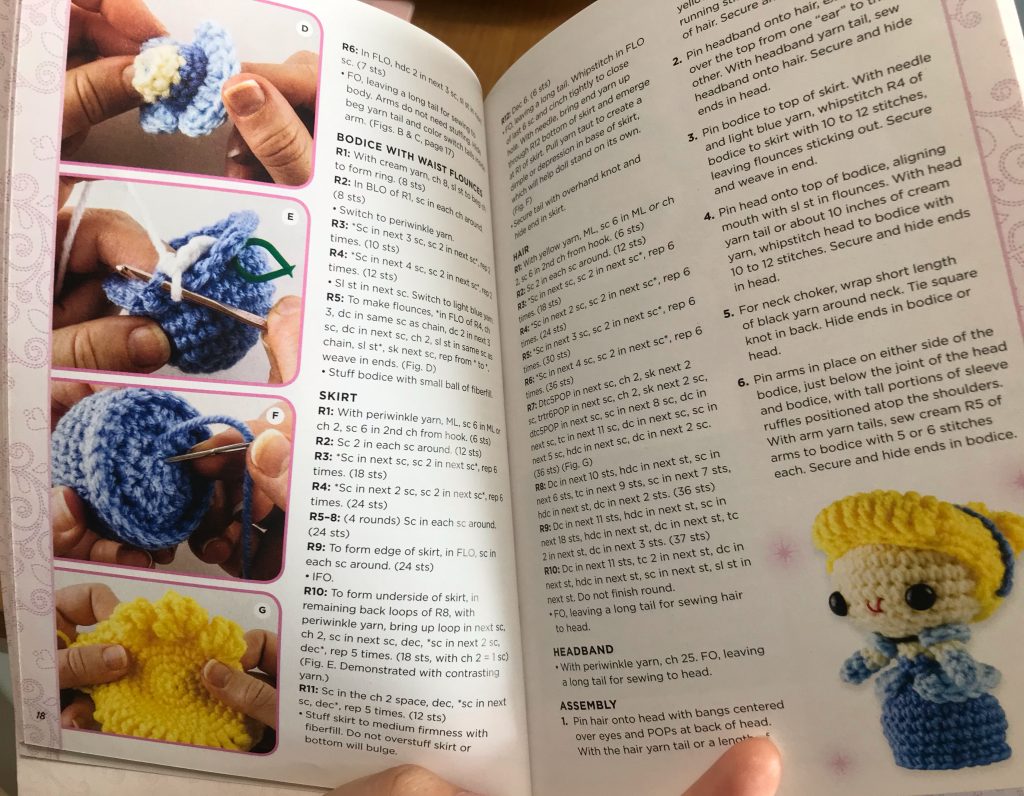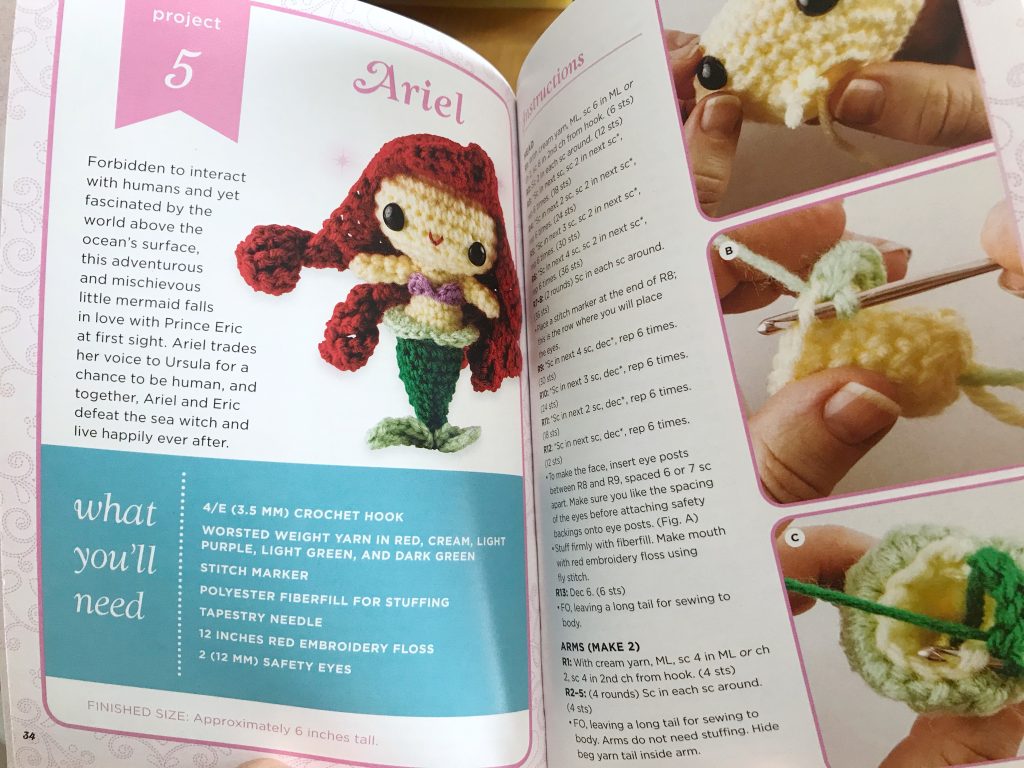 And here comes what I have made with this Disney Princess Crochet Box Set Crochet Kit.
Crochet Princess Cinderella Amigurumi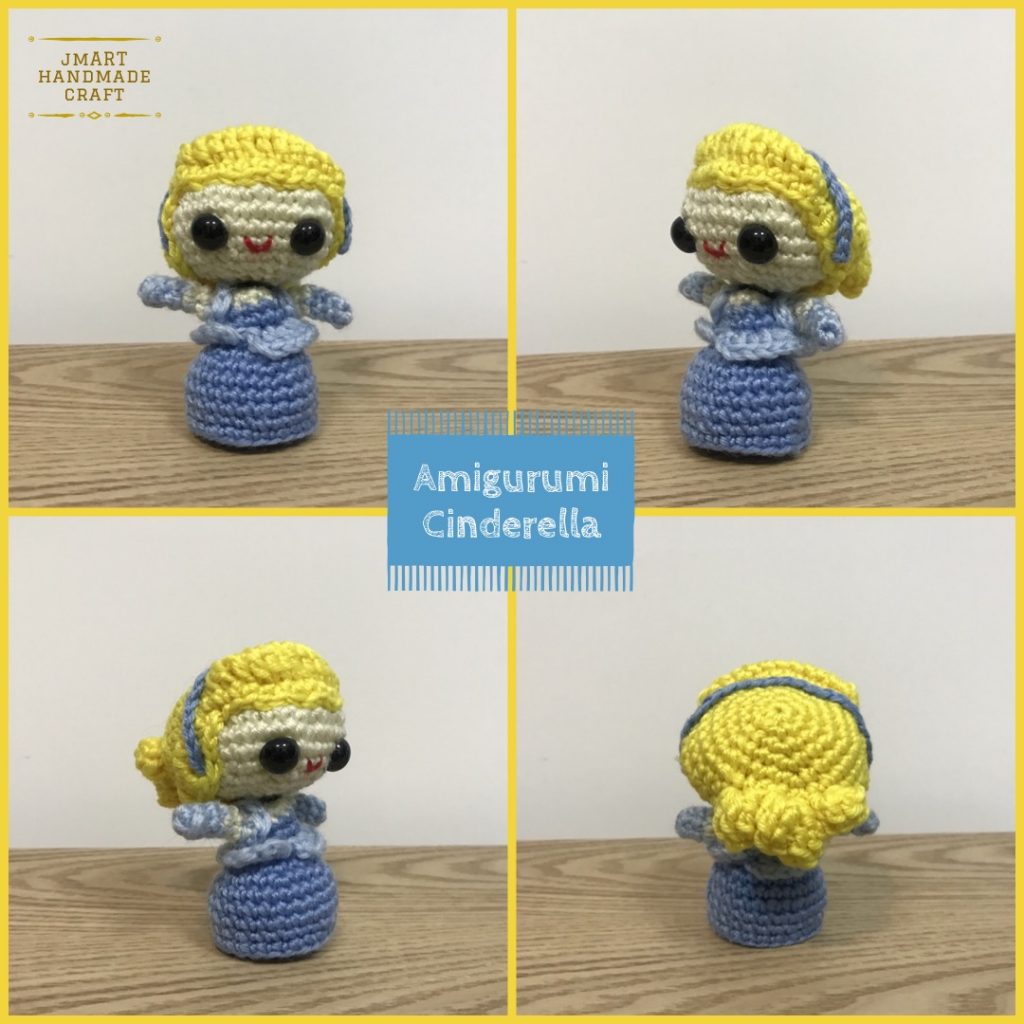 The guide teaches how to make your amigurumi stand well on a surface. Look, it stands so firmly on my table.
For the size, as the yarn is a bit thicker than I expected, so the outcome of the Cinderella is a bit bigger than I thought too. But it is perfect on hand.
Crochet Princess Ariel Amigurumi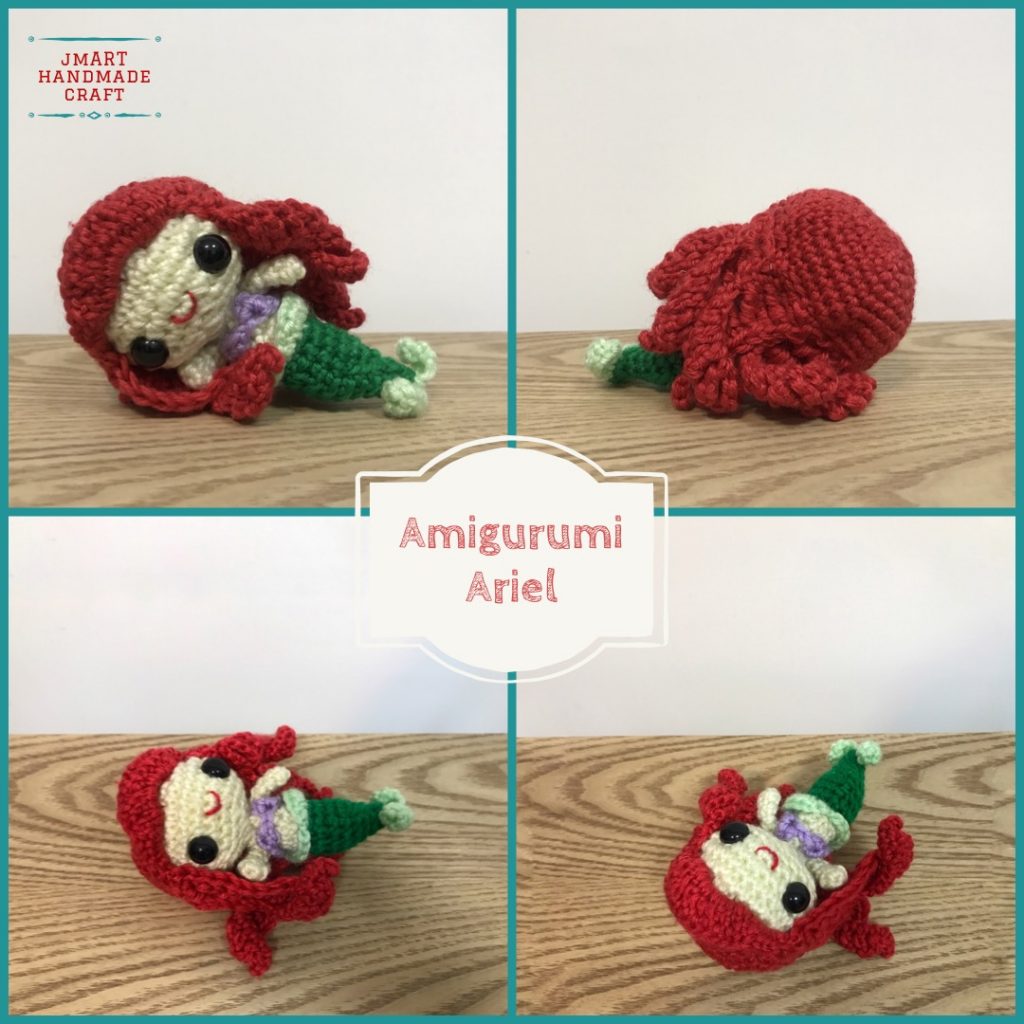 The curly hair is so detailed and elegant. I must say from this Disney Princess Crochet Kit, you can learn nearly all kinds of girl's hair style. It is worth to get and learn definitely!
Talking about hair, the princess that is famous for her hair must be Rapunzel.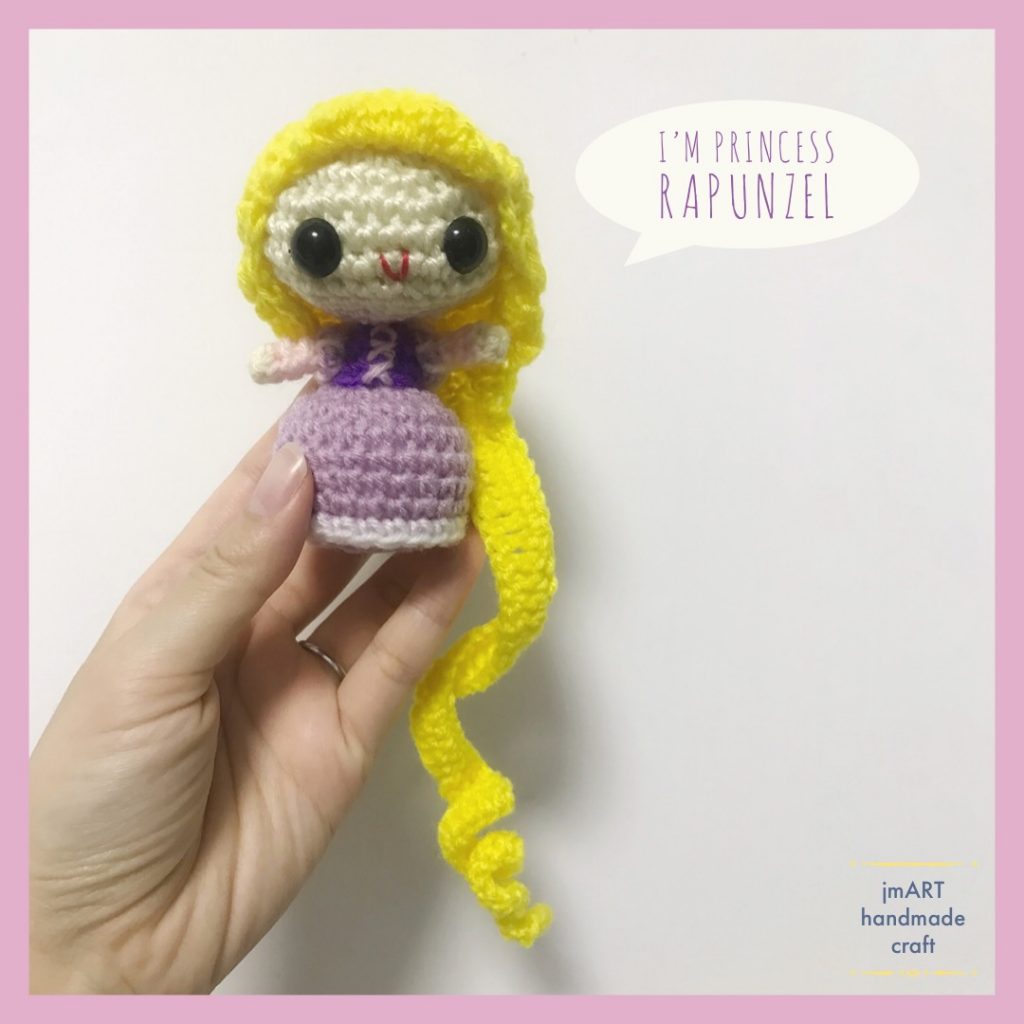 After crocheting Cinderella and Ariel amigurumi, there are actually quite an amount of yarn left. So I used them together with some of my own yarn available at home to try out the long hair Princess, Rapunzel.
Crochet Princess Rapunzel Amigurumi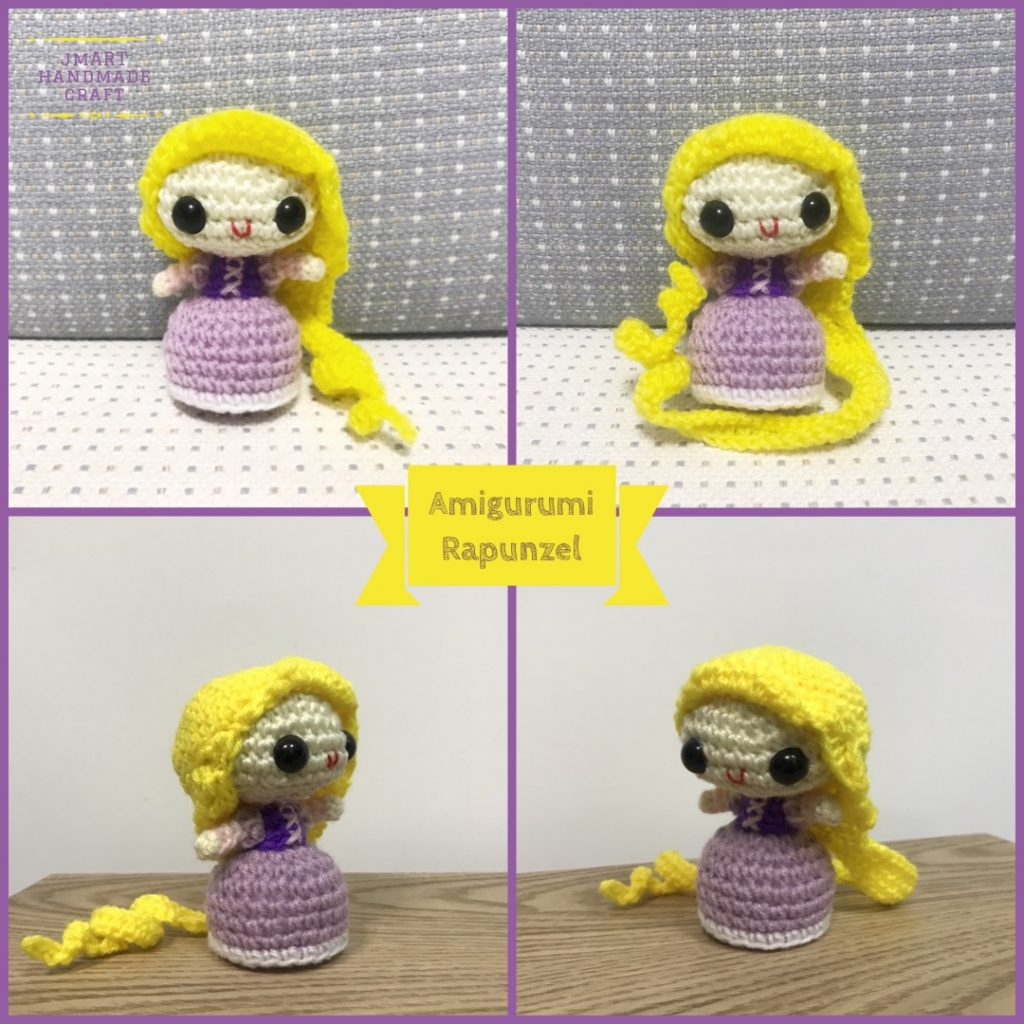 Look! Rapunzel 's hair is sooooooooooooooo long. It consumed a lot of time and yarn.
I think most of the crochets' worry is whether the amount of yarn given is sufficient. So here I think I have given you a very clear idea of how much yarn are provided. It made me feel so safe to crochet with enough material.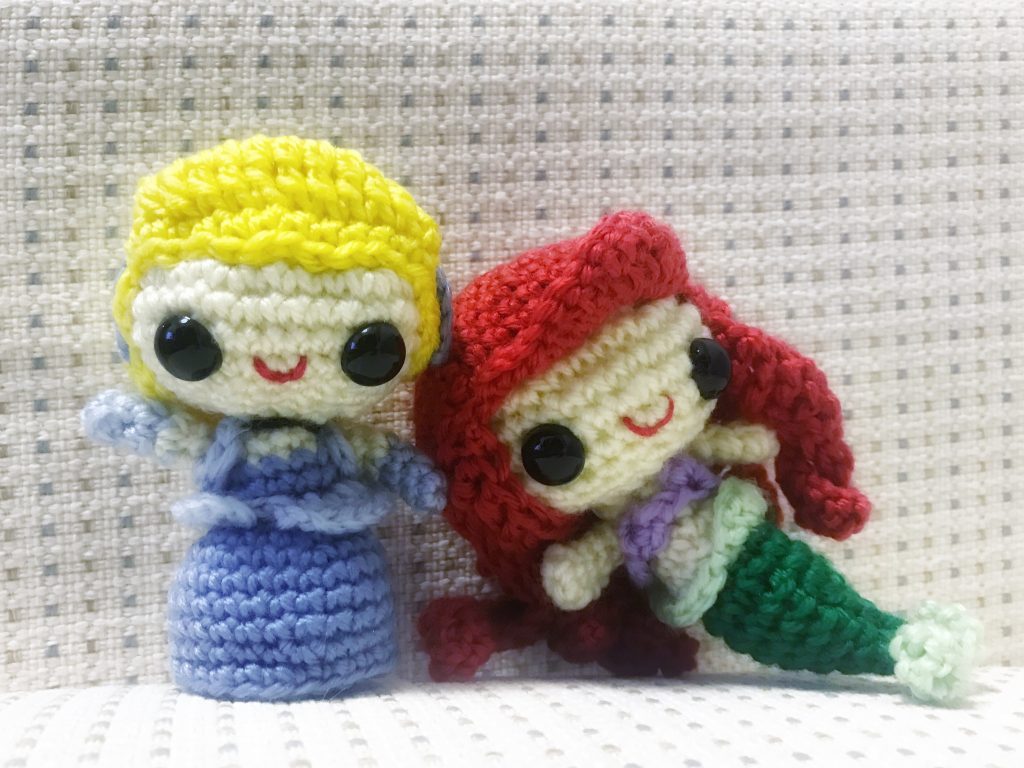 Making two princesses from the crochet kit is contented already. Being able to make one more to form a princess gang is a surprise!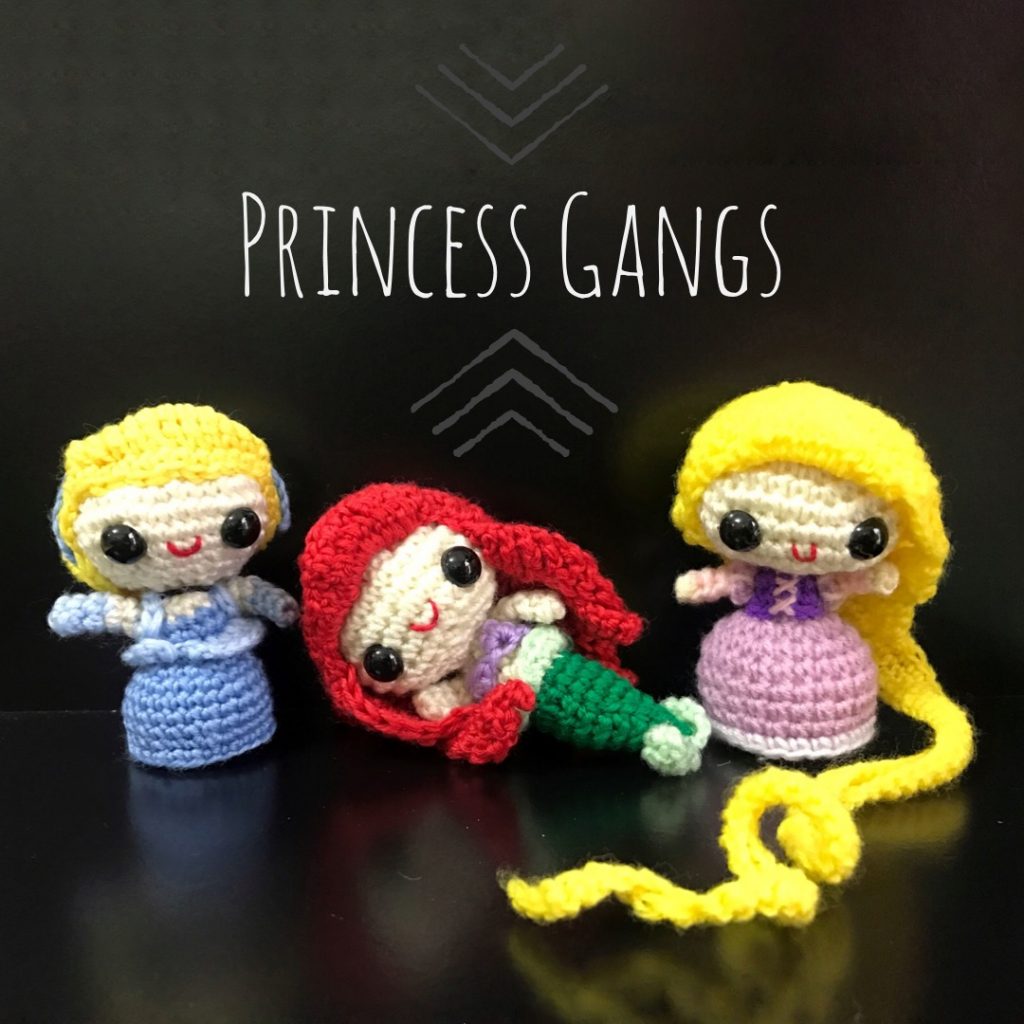 Although the guide suggested to use worsted yarn, I have given it a test to lace yarn as well!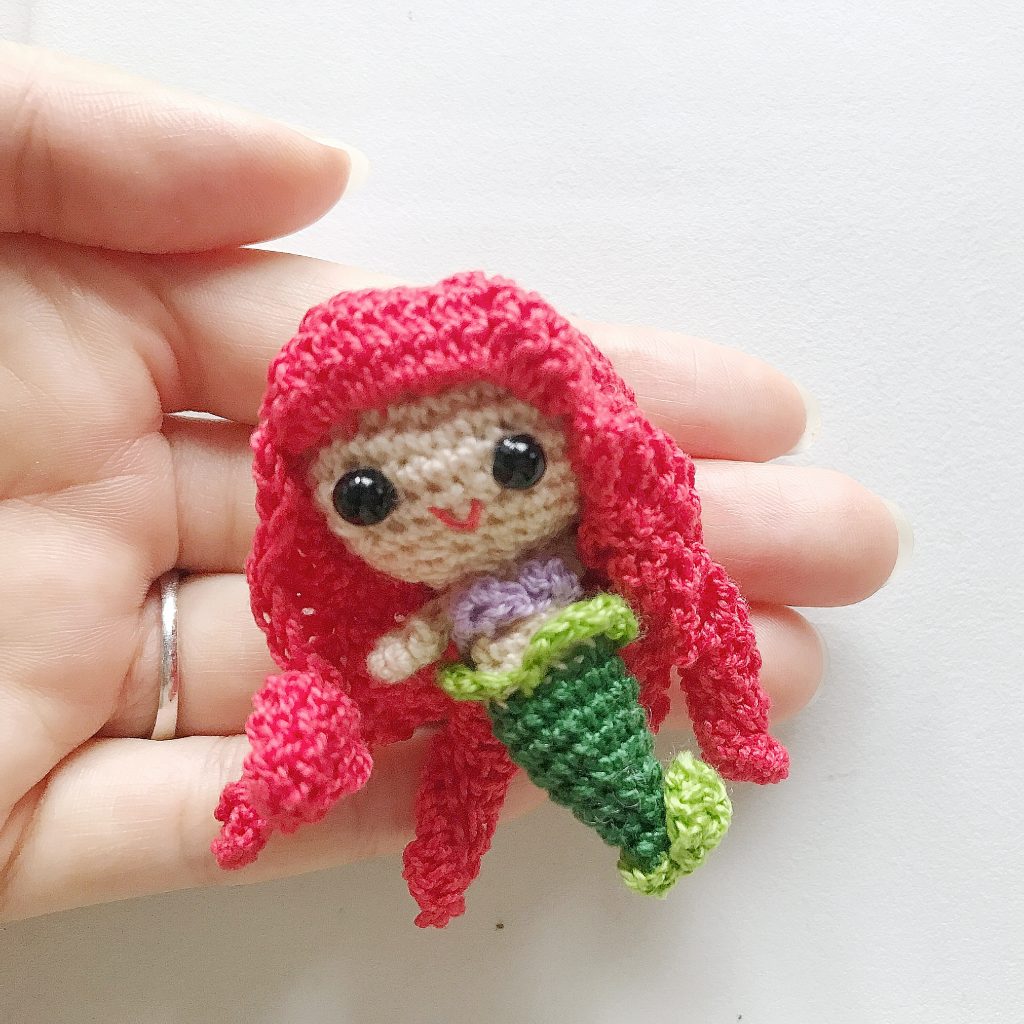 And you can see the difference of using worsted yarn and lace yarn.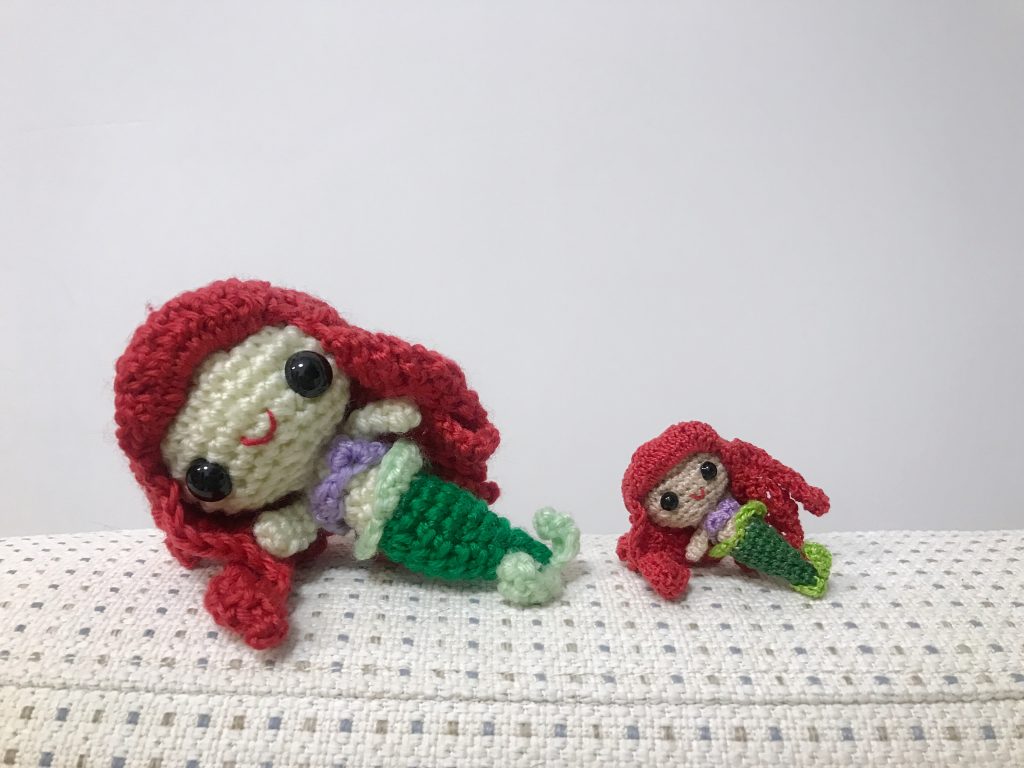 I got quite a lot of feedback saying the mini one made with lace yarn is detailed and nice while the big one made with worsted yarn is good for kids. What do you think?
Overall rating for Disney Princess Crochet Kit
With this kit, I can learn to make 12 famous Disney Princesses with all the detailed and easy to follow instructions in the booklet. The materials provided are of good quality and more than enough to make two princesses.
On the other hand, the size of the final product are big and safe enough for kids. It will be a perfect gift for your lovely girls. I have sent my princess amigurumis for my god as well! She was so happy to receive them and she loves them so much!
I think this kit is worth to buy! Hope you will find my sharing useful 🙂