Crochet Mini Easter Eggs Amigurumi
Happy Easter! This year I have made something really tiny and colorful for this festival. These mini Easter eggs are easy and quick to make. Try out this pattern and make yourself as many colorful eggs as you want to decorate your home or send them as gift for your beloved family and friends!
How to crochet Easter eggs amigurumi?
Materials:
Lace Yarn:
Amber + Orange + Lime
Light Blue + Yellow
Pink + White+ Orchid
Crochet Hook:
I used 2/0 here but any hook that fit your yarn would do
Yarn Needle:
for sewing the parts together
Abbreviations (US terms):
sl st - slip stitch
ch(s) - chain(s)
sc - single crochet
st - stitch
sc inc - 2 single crochet in 1 stitch
sc dec - 1 single crochet in 2 stitch
Mini Easter Eggs Amigurumi Pattern Instruction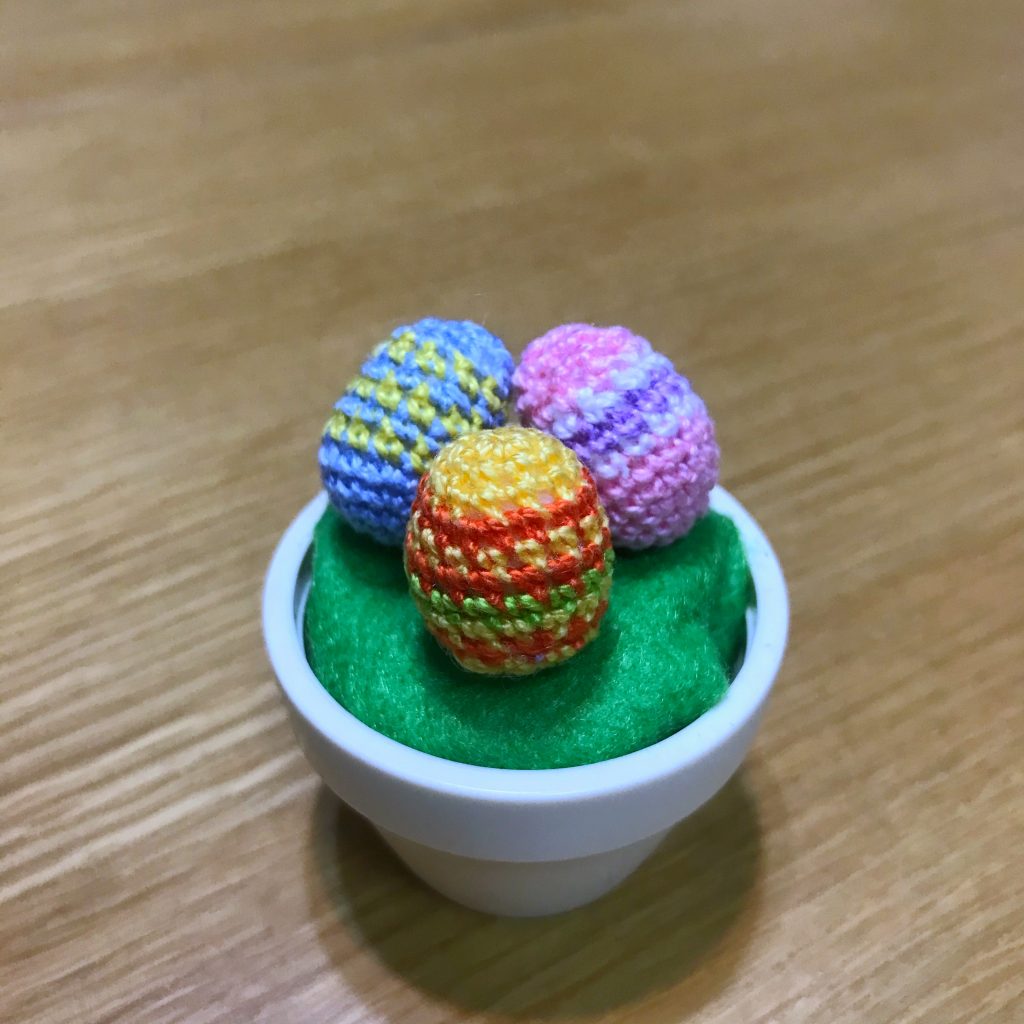 Amigurumi Mini Easter Eggs Color Combination
Tap on the three tabs below to check out the color combinations I used. You may like to follow and change yarn accordingly when you crochet. Of course, you can use my pattern with your own favourite color or with the color of yarn available on your hand. Time to show your creativity!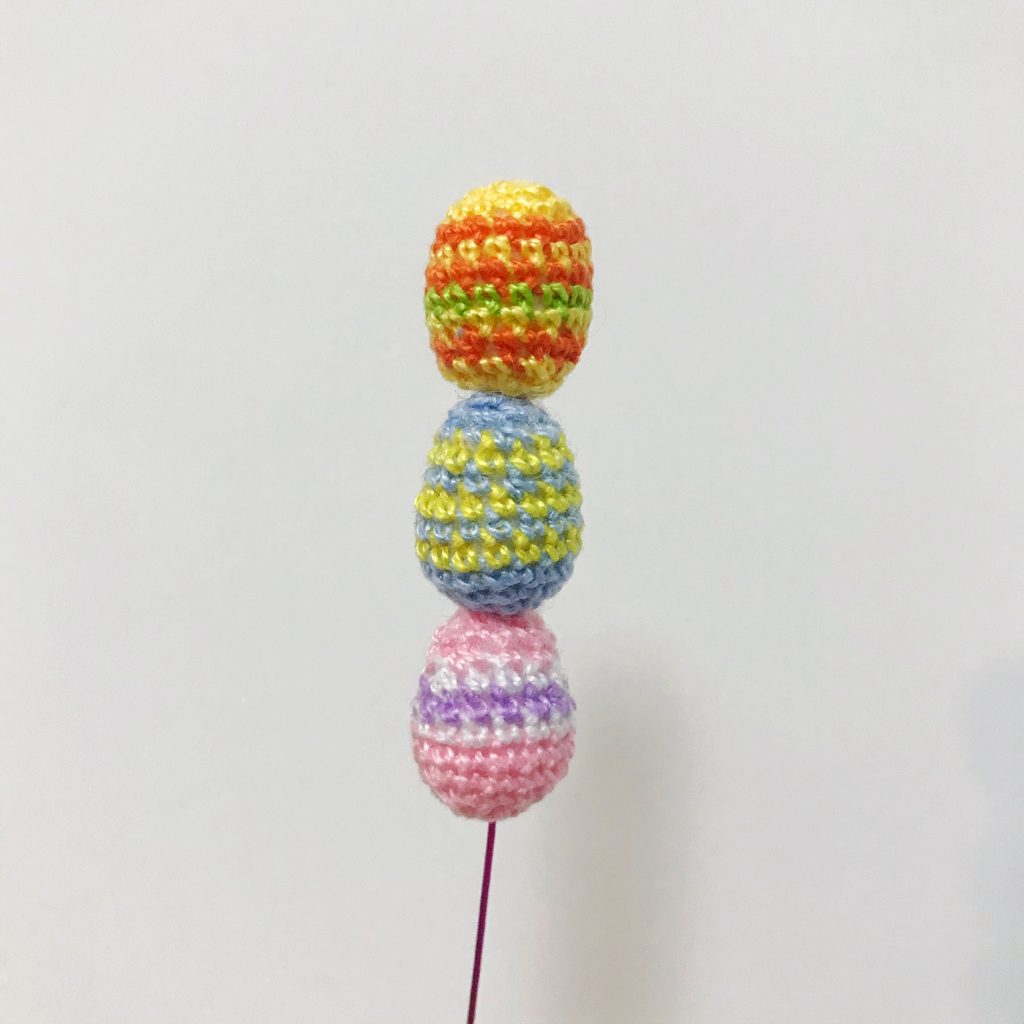 Top Egg
Middle Egg
Bottom Egg
Top Egg
Round 1: Amber
Round 2: Amber 
Round 3: Amber 
Round 4: Orange 
Round 5: Amber
Round 6: Orange
Round 7: Lime
Round 8: Amber
Round 9: Orange
Round 10: Amber
Round 11: Amber
Middle Egg
Round 1: Light Blue 
Round 2: Light Blue
Round 3: Light Blue
Round 4: Light Blue
Round 5: Yellow
Round 6: Light Blue
Round 7:  Yellow
Round 8: Light Blue
Round 9:  Yellow
Round 10: Light Blue
Round 11: Light Blue
Bottom Egg
Round 1: Pink 
Round 2: Pink
Round 3: Pink
Round 4: Pink
Round 5: Pink
Round 6: White
Round 7: Orchid
Round 8: White
Round 9: Pink
Round 10: Pink
Round 11: Pink
Amigurumi Mini Easter Eggs Crochet Pattern
Round 1:
Make a Magic Circle with 6sc. Close the circle with sl st. (6st)
In the following rows, start with a sl st and close the round with sl st.

Round 2:
1 sc, 1sc inc in next st. Repeat 3 times. (9st)
Round 3:
2 sc, 1sc inc in next st. Repeat 3 times. (12st)
Round 4:
3 sc, 1sc inc in next st. Repeat 3 times. (15st)
Round 5-8:
1sc in each st. (15st)
Round 9:
3 sc, 1sc dec in next st. Repeat 3 times. (12st)

Round 10:
2 sc, 1sc dec in next st. Repeat 3 times. (9st)
Start stuffing.

Round 11:
1 sc, 1sc dec in next st. Repeat 3 times. (6st)
 Fasten off and hide the end of yarn inside the egg.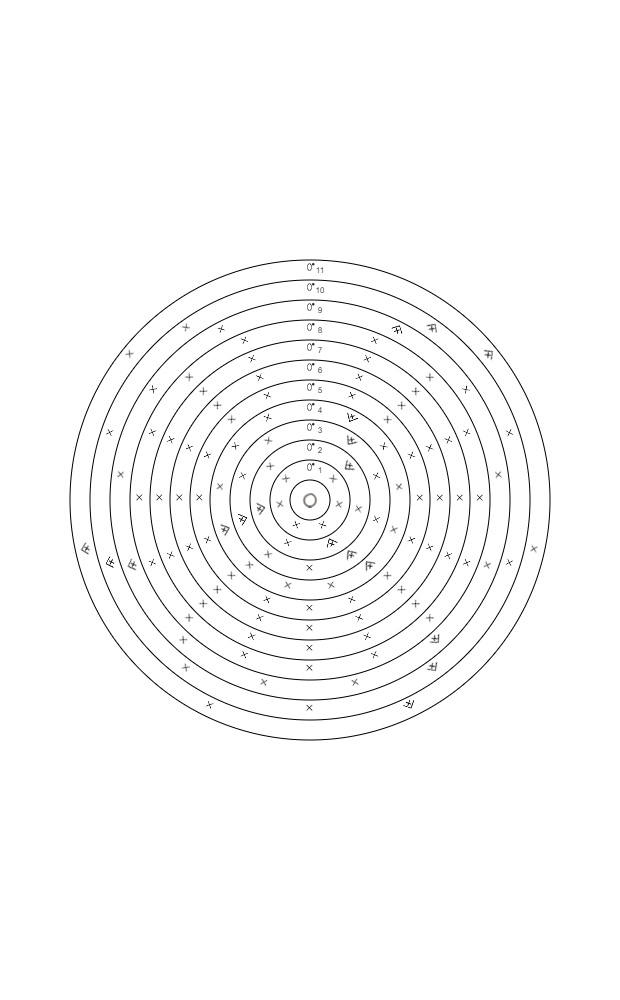 This pattern is shared for FREE because I want to uphold the sharing and appreciating culture. I would be very thankful to have your generosity to show me support by leaving a comment if you like this post. Please also credit me When you have finished crocheting with my pattern. I would be SO CONTENTED and APPRECIATED if you could share your work with me by tagging me on Facebook or Instagram @jmart.handmadecraft 🙂
This pattern is for individual use only and is protected by international copyright law. In accessing this pattern you agree to print and use this pattern only for your personal non‐commercial use. You may not distribute or sell electronic or paper copies of this pattern.You may not sell an item made from this pattern as well.